Total Experience
Fiesta Tents is focused on providing clients with a total experience.
Loyalty, integrity and the prestige of helping our clients achieve their goals are the driving forces behind our innovative designs. We ensure the maximum safety of all our products and the optimal efficiency of our services.
Fiesta Tents' total experience is fuelled by a desire to help our clients find extraordinary solutions to all their needs. Our enduring business relationships are based on extensive experience and unwavering professionalism that offer unparalleled value to our clients. Our recent move to a 50,000-plus-square-foot building in the Greater Montreal region is a testimony to our commitment to growing our business.
As a client of Fiesta, you will have our assistance every step of the way: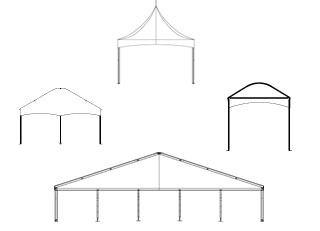 Project consultation
Site inspections
Budgetary evaluations
Freight and brokerage services
Installation and maintenance of rented and purchased products
After-sales service and round-the-clock technical support, seven days a week
A complete array of additional support services ensures customer satisfaction:
Plans and drawings
Customization
Engineering
Annual tent installation and removal services
Installation and maintenance training and support
Tent and vinyl repairs
Tent washing and storage
Freight and brokerage services
Our products are suitable for many different applications and vocations:
Tent rental for weddings and other special occasions
Hotels, private clubs, restaurants and outdoor concessions
Special events
Golf courses
Construction and expansion projects
Temporary storage
Fiesta Tents is the leader in engineering construction of temporary or permanent structures in demanding conditions. This is why major companies and events in North America choose to partner with us from the initial planning stage to create memorable events. Our successes include projects for many well-known corporations and brand names, such as Power Corporation of Canada, Bombardier Inc., Cirque du Soleil, Mercedes-Benz Canada, BMW Canada, F1 Canadian Grand Prix, Tennis Canada and PGA Champions Tour Montreal
Thanks to our ability to deliver successful results for our clients, we have won many prestigious achievement awards for tent manufacturing and rental-related projects.
At Fiesta Tents, we believe that loyalty, integrity and prestige are the key ingredients to creating imaginative solutions that will benefit your company, whatever your needs.