Technology
Anodized aluminum frame assembly composed of a
1 3/4 " x 2 1/4 " extruded box beam
Self-standing structure
Rigid connectors
Clear anodized finish on all aluminum components
All steel components with galvanized or zinc plated finish
No nuts or bolts required for frame assembly
Anchoring directly in tent upright base plates with guy outs
Expandable structure to unlimited lengths
Standard bays in increments of 10'
Vinyl tops integrated to the extruded aluminum frame (sliding "kedered" tops)
Vinyl walls integrated to the extruded aluminum frame (sliding "kedered" walls) with median divider (2pcs)
Vinyl walls with or without wall bars
Options
Vinyl Choices
Tops and walls
Laminated white translucent or B/O vinyl
Coated white translucent or B/O vinyl
Colored vinyl
Digitally printed vinyl
Types of walls
Vinyl walls are offered with or without pass pole pockets.

Solid white or colored

Cathedral / French window

Clear window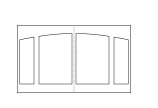 Arched window (Hard walls; rigid PVC or glass also available)
WARNING: This product has been manufactured for use as a temporary structure. For the safety of all occupants, evacuation is recommended if threatening weather occurs or if there is any doubt concerning the safe use of this product.