Services
Since 1977, Fiesta Tents has earned a reputation for quality products, superior workmanship and excellent customer service. Fiesta Tents provides a wide variety of tent structures, party tent rentals, canopies, pole tents and clear span tents. All tents are manufactured with the highest quality standards for all kinds of events.
We are always striving to produce, develop and provide the most innovative – yet very functional – temporary accommodation.
The R & D team at Fiesta Tents' modern manufacturing facility is constantly looking for new technologies and ways to improve our product line.
Many event professionals rely on Fiesta Tents to cover their needs, and they appreciate our expertise, which has been proven by many years of successful tent events.
When you choose Fiesta Tents, you will benefit from innovative designs, quality service and our dedication to providing superior solutions.
As a client of Fiesta, you will have our assistance every step of the way
Project consultation, site inspections, budgetary evaluations, plans and renderings Freight and brokerage Installation and maintenance of purchased products After-sales services and technical support
Our services include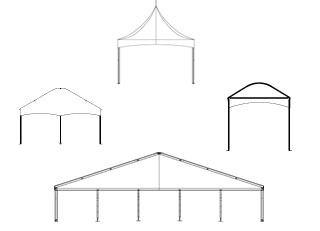 Tent sales and manufacturing
Logistics: freight and brokerage
Party tent rental services
Consultation service
Site inspection
AutoCAD plans and 3-D renderings
Preliminary estimates
Engineering and product certificates for flame resistance standards
Installation service: yearly installation and removal of tents and custom products
Installation and maintenance training
Tent and vinyl washing and repairs
Storage for customer owned tents
Technical support: pre- and post-purchase
Used tent sales