Total Experience
Fiesta Tents is focused on providing clients with a total experience.
Fiesta Tents' total experience is fuelled by a desire to help our clients find extraordinary solutions to all their needs. Our enduring business relationships are based on extensive experience and unwavering professionalism that offer unparalleled value to our clients. Our recent move to a 50,000-plus-square-foot building in the Greater Montreal region is a testimony to our commitment to growing our business.
As a client of Fiesta, you will have our assistance every step of the way
Project consultation, site inspections, budgetary evaluations, plans and renderings
Freight and brokerage
Installation and maintenance of purchased products
After-sales services and technical support
Modern designs and a variety of quality tent models as well as accessories
Solara Series: high-peak marquee
Solar Systems: clear span tent structures
Legacy and Legacy Lt Series: kedered frame tents
Tent doors
A complete array of additional support services to ensure customer satisfaction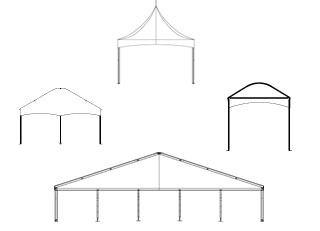 Plans and drawings
Customization
Engineering
Annual tent installation and removal services
Installation and maintenance training and support
Tent and vinyl repairs
Tent and vinyl washing and storage
Freight and brokerage services
Tent subleasing and subcontracting
Many different applications and vocations
Party tent rentals for wedding and other special occasions
Hotels, private clubs, restaurants and outdoor concessions
Special events
Golf clubs
Construction and expansion projects
Temporary storage
A unique purchase experience
Satisfaction Promise
Expertise
Quality
Professionalism
Personalization
At Fiesta Tents, we believe that loyalty, integrity and prestige are the key ingredients to creating imaginative solutions that will benefit your company, whatever your needs.